Explore 34
Your free Aquavista stop-overs
Explore the waterways with Aquavista
We've got 29 unique and special waterside locations, but when you moor with us on an annual contract, you get much more than a just mooring at your chosen marina. You get access to our exclusive Explore 34 benefit.
Our Explore 34 benefit means you can stay at any of our other marinas for up to 34 nights at no extra cost. What we mean is total freedom to explore the waterways - you can cruise along different canals, take in some countryside views, set off to a new town to soak up some culture, or if your home marina is on the coast you can make plans to sail over to your nearest Aquavista coastal marina.
When you're done for the day, one of our 29 marinas will be ready to welcome you, with all the comforts you want for a stop-off and all the handy facilities you don't get when you moor on the open waterways.
How to book your Explore 34 free stop-overs
As an annual contract holder, you can visit any of our marinas and stop-over free of charge*. In the 12-month period of your annual contract, you get a total of 34 nights to experience our other Aquavista marinas.
All you have to do to book your free stop-over is call the marina you wish to visit, give them your Aquavista account number and we'll check we have availability. We'll do our very best to fit you in.
*The only exemption to this offer is Limehouse Waterside & Marina in London (because it's super busy), where we do charge a fee for visiting, but it's still a discounted rate.
*Please note that Bath and Portavon do not have visitor moorings available.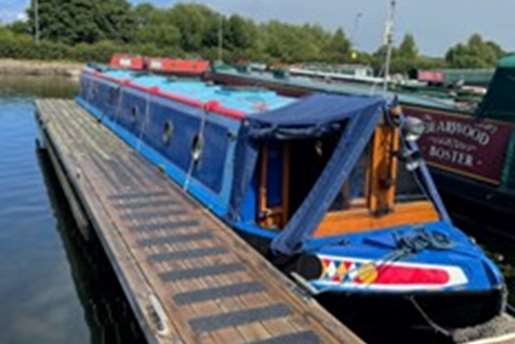 See what Andrew from Cropredy had to say about his Explore 34 adventure
"I just wanted to share with you our extremely positive feedback on our use of the Explore 34 benefit this summer".

"We've just come back from a four-week cruise on NB Blodwen up to Lincoln and back. On a long trip it's great to break the journey with the occasional marina stopover - being able to connect the shoreline and avoid the need to run the engine to charge the batteries, catch-up on laundry and make use of the many facilities. Explore 34 took this to a new level, being welcomed and treated like home moorers wherever we stopped at an Aquavista marina".

"Our first stop was a couple of nights at Sawley, where we were meeting up with family who live in the area. In addition to the many usual marina services, Sawley is also home to one of the best stocked chandleries I've come across at a marina, and it was great to be able to stock up with paint and other accessories".

"On the way back from Lincoln we stopped at Kings Marina on the Trent in Newark - initially just for diesel and pump out, but seeing how nice the moorings were, we stayed overnight. This was particularly useful as the public moorings on the river through the town are fairly limited. Finally, we took a four night stopover at Nottingham Castle Marina, to have a proper city break, exploring the sights safe in the knowledge that Blodwen was on a secure mooring".

"In all of these Explore 34 stopovers we were made to feel as welcome as we are at our home marina. The staff were all extremely polite and helpful, going out of their way to make our stay as smooth as possible".

"Given the extensive nature of the Aquavista marina estate, Explore 34 really is a fantastic benefit for those who want to cruise the canal and river network, while being able to stay free of charge at a wide range of well equipped and well run marinas. It's one that I'd strongly recommend using for existing Aquavista customers, and it's a strong reason for others to consider switching to Aquavista on their next mooring contract renewal".


TransEurope Marinas
We're also members of TransEurope Marinas, which means our customers can enjoy a 50% berthing discount for up to five days a year in each marina facility within the TransEurope network, using your membership card. The TransEurope network includes 90 marinas in 12 different countries, including the UK, Turkey, Morocco and Madeira.

discover the life
Take a look at our marinas to plan your next trip and make the most of Explore 34!