discover the life
Birdham Pool Waterside & Marina
Birdham, Chichester, West Sussex, PO20 7BG
01243 512310
A quiet spot that's full of character
For a chilled-out break by the water, come moor up with us at Birdham Pool Waterside & Marina. Tucked away on the calm waters of the Chichester Harbour, this marina has something really special about it. Expect still waters, loads of wildlife, friendly staff and uninterrupted views across the harbour.  
This marina's got a long history behind it, so it's full of character. Opened in 1937, it's one of the oldest marinas in the country – but you've still got all the modern stuff you need to enjoy life on the water. It's a real mix of the old and new here – we think that's what makes it so unique.  
When you're done relaxing by the water, Chichester is only a few miles away – there's loads of transport links from Birdham, so it's really easy to get to.  
View on Google maps

See the marina layout
Moorings at Birdham Pool Waterside & Marina
At Birdham Pool Waterside & Marina you have the peace of mind of knowing that you are moored in a safe and secure berth, with a wide range of facilities. Our friendly team are on hand to help you when you need them. 
Things to do in the local area
Birdham Pool Marina is a super tranquil spot – but there's still loads to do nearby. A 20-minute walk will take you to Birdham village, where you'll find a Nisa shop and a garden centre. As well as plants, the garden centre's got a farm shop and a homeware section – there's some really nice nautical stuff in there.  
There's also a bunch of nice places to eat around the village – our favourites are The Lamb Inn, Thyme and Chillies Indian, The Potager Restaurant and The Cider House Kitchen. For more food options, Chichester city centre is only a short drive (or bus ride) away.  
If you want to spend some time on the beach, you're only a few miles away from Bracklesham Bay and West Wittering beaches – you can get there by following the Salterns Way, which is a foot and cycle path that runs from Chichester to West Wittering. There's always loads of water sports going on down there, but if that's not your thing, there's also some really great cafés and bistros.  
Birdham Pool Waterside & Marina photo gallery
An estuary view leading into Birdham Pool Marina.
Coastal view with Birdham Pool Marina.
Aerial view of Birdham Pool Marina.
A yacht pulls into Birdham Pool Marina.
Birdham Pool Waterside & Marina
We've got all your practical needs covered with a full array of Aquavista brilliant basics that you'd expect from modern waterside living including: 
Safety & security 
A secure marina with gated access to jetties and CCTV

 

All jetties are well-lit at night

 

24-hour emergency call out 

 
Facilities 
Toilet & shower facilities, open 24/7

 

Laundrette, open 24/7

 

Customer lounge and sun deck

 

Ample free car parking

 

Free WiFi in the marina for browsing 

 

Refuse and recycling facilities

 

Seasonal on-site Cafe

 
Services 
A lock that is manned three hours before and four hours after Portsmouth high water 

 

Fully serviced jetties with metered electricity and water

 

Boatyard

 

Marine trades for all areas of maintenance and repair

 

Crane/boat mover with 30 tonnes lifting capacity

 

Undercover storage

 

Winter storage afloat and ashore for up to 14m

 

On site Boat Brokerage

 
Boatyard
Birdham Pool's Boatyard forms part of a marine service centre with many skilled craftsmen and engineers onsite. Marine trades for all areas of boat maintenance and repair. Birdham Pool is a popular and busy boatyard. We offer the following services for boats wishing to come ashore: 
Lift and scrub

 

Antifouling and painting

Stepping / unstepping and storage of masts

 
There are laying up facilities in the yard with space for approximately 90 craft plus limited covered storage. 
Lifting Capacity - We have a new crane capable of lifting boats up to 30 tonnes and a boat mover capable of transporting boats of up to 30 tonnes 
Maintenance and Repairs - A number of skilled craftsmen and engineers operate from Birdham Marine Service Centre. From wooden boat specialists to marine engineers. They are available to help you with restoration, repair and maintenance projects on your boat and will be pleased to discuss your boating issues and requirements. 
The Old Boatshed  GRP Specialists in fabrications, bow thrusters, holding tanks, polishing, rib repairs. 
Kevin Horn Tel: 07766 521575 
Nelson Engineering  Independent Volvo specialists, installations, repairs, service, maintenance. 
Tony Nelson Tel: 07803 047863  http://www.nelsonengineering.co.uk 
Tim Gilmore Ltd  Repairs, restoration and maintenance of wooden boats. 
Tim Gilmore Tel: 01243 513872  http://www.woodenboatsforever.co.uk  
If you are looking for a boatyard for your boat, offering a great service at competitive prices contact Birdham Pool Marina on 01243 512310 or email us at birdhampool@aquavista.com. 
Contact our friendly Waterside Crew: 
Birdham Pool Waterside & Marina office is open 9am until 5pm Monday to Saturday and 10am - 4pm on Sunday 
You can call us on 01243 512310 and we will be more than happy to help you or arrange an appointment to view the marina.
During seasonal and bank holidays our typical office hours may vary, please call the waterside office before making a visit. 
discover the life
To moor with us at Birdham Pool Waterside & Marina please get in touch
Navigating into Birdham Pool

 
Birdham Pool can be found on the southern edge of Chichester lake, inside Chichester Harbour and is a non-tidal basin except at high water springs, when the lock is operated on free flow at the top of the tide. The lock is available three hours before and four hours after Portsmouth high water within the locking hours below. 
The duty Lock Keeper can be contacted on 07831 466815 or 01243 511482 during the normal operational times and VHF Channel 80 for locking instructions. Locking at other times is available by prior arrangement with the lock keeper. 
Tidal gauges are located on the seaward side of the channel to Birdham Pool Waterside & Marina and on the Channel Piles. These indicate the height of the water on the lock sill. 
The channel is approximately 9m in width and has adjacent mud banks on both sides. Follow line of posts leaving them 4 metres to starboard. 
Lock landline: 01243 511482 Lock Mobile:   07831 466815 VHF Channel:  80 (Call Sign - Birdham Pool Marina) 
Lock Times 2022 
1ST JAN 2022 – 26TH MAR.  07:00 – 18:00.  7 DAYS

 

27TH MAR 2022 – 29TH OCT.  06:00 – 22:00.  7 DAYS

 

30TH OCT 2022 – 31ST DEC.  07:00 – 18:00.  7 DAYS

 

CLOSED 25TH AND 26TH DECEMBER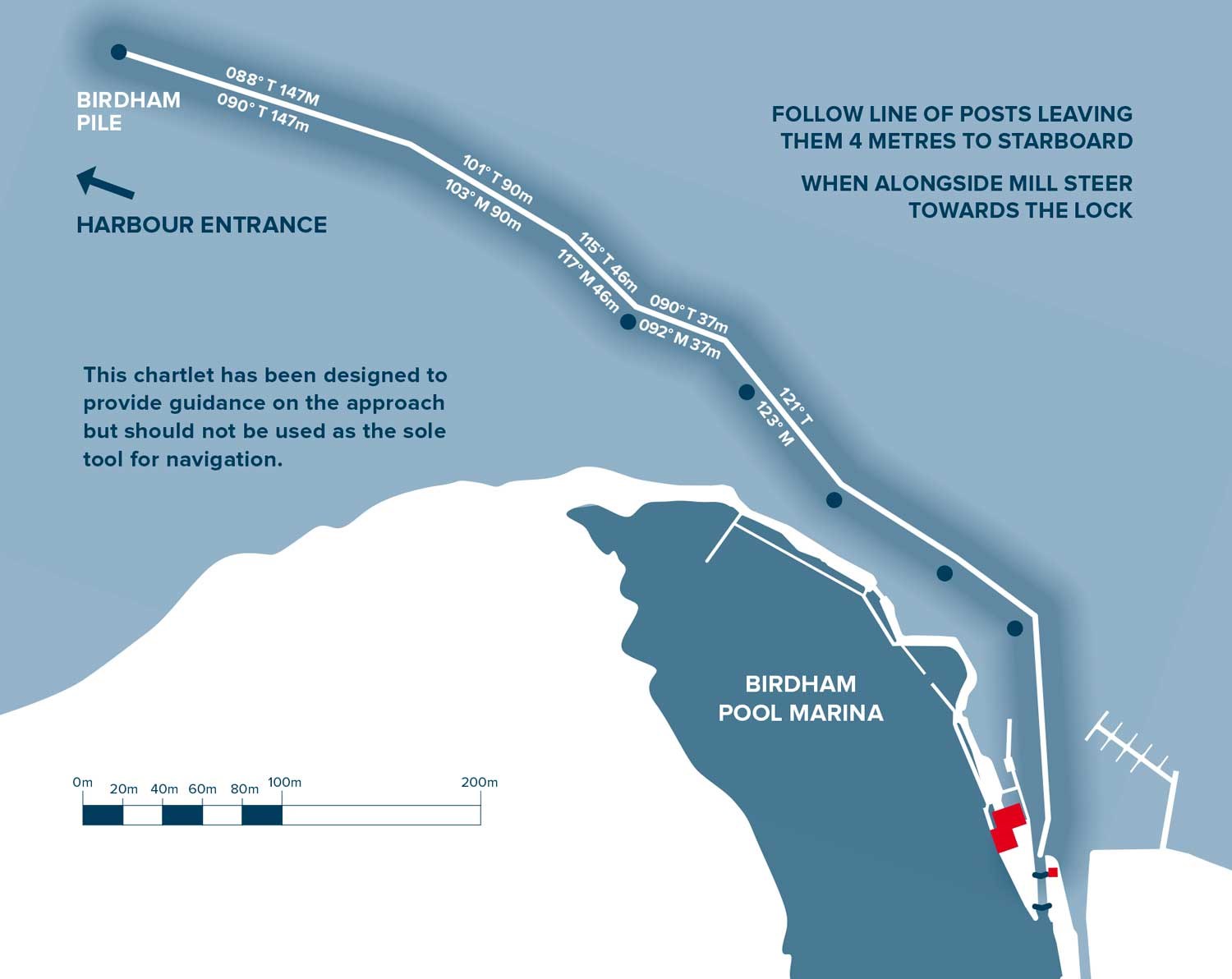 TransEurope Marinas
We are members of TransEurope Marinas. This allows our customers to enjoy a 50% berthing discount for up to five days a year in each marina facility within the Transeurope network, using your membership card. This now encompasses 90 marinas in 12 different countries, including all around the UK to Turkey, Morocco and Madeira.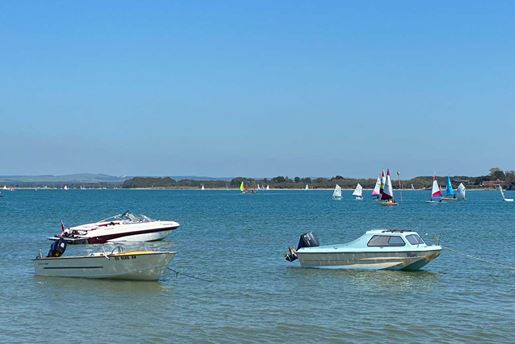 Chichester Harbour
The sheltered waters of Chichester Harbour are ideal for racing and day sailing. Please observe the 8 knots speed limit which is enforced for the whole of Chichester Harbour. Over 10,000 craft use the harbour and there are some 5,500 moorings and 14 sailing clubs with over 11,000 members. Other popular activities include angling, birdwatching, walking, wildfowling, painting and photography. The landscape of Chichester Harbour was formally recognised as being of national importance in 1964 when it was designated an Area of Outstanding Natural Beauty (AONB).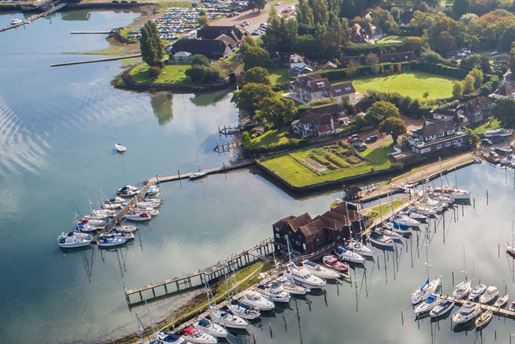 Chichester Yacht Club
A ten minute walk from Birdham Pool Waterside & Marina is Chichester Yacht Club, an all year round members' Club renowned for its friendly, informal atmosphere. The Clubhouse has fabulous views over Chichester Harbour, a restaurant & bar together with excellent facilities for all the family. All berth holders at Birdham Pool Waterside & Marina are welcome to become members of Chichester Yacht Club.