discover the life
Royal Clarence Waterside & Marina
Weevil Lane, Gosport, Hampshire, PO12 1AX
023 9252 3523
Your base for exploring the south coast 
If you're looking to explore the Solent, come moor up with us at Royal Clarence – there's 154 berths waiting for you, which you can access at all times of the tide. Set near the mouth of the Portsmouth Harbour, it's the perfect base for cruising the south coast and further afield, like France and the Isle of Wight.  
Tucked inside the walls of the Portsmouth Harbour, you tend to forget you're near a busy port – it's really peaceful here. Back in the day, Royal Clarence was a Royal Navy Victualling Yard, so it's got that traditional maritime vibe about it.  
There's also some great views over the dockyard and Spinnaker Tower – on sunny days, it's tempting to stay put on your deck and soak it all in. And when the weather turns rubbish, you're only a quick ferry ride from Gunwharf Quays – it's got loads of shops, restaurants, bars and a cinema to keep you busy. 
View on Google maps

See the marina layout

Keep up to date
We've got all your practical needs covered with a full array of Aquavista brilliant basics that you'd expect from modern waterside living including: 
Safety & security 
A secure marina with gated access to jetties, CCTV and a full

-

time crew based on-site

 

All pontoons have a non-slip surface and are well-lit at night

 

24-hour emergency call

-

out 

 
Facilities 
Toilet & shower facilities, open 24/7

 

Laundrette, open 24/7

 

Car parking

is available for berth holders and visitors in the Cooperage Green Car Park. There is also a short term drop off point next to Arty's.

 

Free WiFi in the marina for browsing

 

Refuse and recycling facilities

 

The quayside hosts several popular restaurants and cafés

 
Services 
Fully serviced pontoons with metered electricity and water

 
Your berthing options at Royal Clarence are:
Annual leisure contract: 154 deep water berths for all types of vessel up to 100ft LOA that are accessible at all states of the tide. It also has the capacity for larger craft (up to 4 metre draft and 60ft LOA) with heavier duty pontoons. The marina is predominantly made up of finger berths with a limited number of alongside berths also available. 
Daily visitor and short stay rates: book ahead to secure a berth for a short-term stopover 
Winter berthing - Royal Clarence Waterside & Marina has special winter berthing rates and there are lift out and storage facilities nearby to the marina. Contact [email protected] for further details. 
If you choose an annual contract, as well as access to all of the facilities you also receive:
Explore 34 – Free stop-overs at other marinas in the Aquavista group
Transeurope - 50% berthing discount for up to five days a year in each marina facility within the Transeurope network
Moor Benefits – Access to our exclusive Moor Benefits programme
A choice of payment options – quarterly or annual
Regular newsletters and surveys – We make sure you're up to date with any important news about our marinas, and we love getting your feedback on how we're doing
Annual and seasonal berthing tariffs
Whether you're looking for a quick pit stop on your travels or something a little more long term. For our latest annual and seasonal berthing rates at Royal Clarence, please download our rate card.
Royal Clarence Waterside & Marina photo gallery
An aerial view of Royal Clarence Marina.
A small island sits in the water next to Royal Clarence Marina.
Royal Clarence Waterside & Marina.
A long row of yachts and boats are tied up at Royal Clarence Marina.
Lines of white yachts are moored up.
White and blue yachts sit on the water along the jetty.
Yachts moored up on the side of the jetty at Royal Clarence Marina.
Rows of yachts at Royal Clarence Marina.
Royal Clarence Waterside & Marina
Things to do in the local area
Along with loads of great cruising routes, Royal Clarence Marina has a real sense of history. It used to be the Royal Navy Victuallers Yard, and a lot of those old buildings are still standing. Then you've got the backdrop – panoramic views over the historic Portsmouth dockyard, where HMS Victory and HMS Warrior were once based.  
But the marina itself has been totally transformed – underneath all that history, you'll find some of the best facilities in the Solent, right there on the waterfront. 
When you're ready for some time on land, Portsmouth city centre is just a short walk and ferry ride away. Along with all the shopping and cultural stuff you'd expect from a great city, Portsmouth is also the site of the Gunwharf Quays – there's loads to do there.  
For more information about events in and around Gosport logon to http://gosportmarinescene.com 
Navigating into Royal Clarence 
The entrance to Royal Clarence Marina is well-marked with a large sign. After the North end of the boat channel, go past Gosport Marina, and as you pass the MOD fuelling jetty, turn left into Weevil Creek. Keep the big fuel jetty to port and Burrow Island to starboard. 
There are green starboard piles off the island. It is recommended that a wide berth is taken from the green piles east of Royal Clarence Marina as the mud encroaches well past them, especially at low tide. 
The main channel runs adjacent to the end of A pontoon, so please stay close to the marina when arriving and departing (see chart below). 
Please radio VHF Channel 80 or telephone 023 9252 3523 for berthing instructions before entering the marina. 
Portsmouth Harbour regulations 
Mariners are advised that The Kings's Harbour Master (KHM), Portsmouth, controls all shipping movements within the Port and has made a General Direction under the Dockyard of Portsmouth Order 2005. 
In particular, users of the Harbour should be aware of the 'Small Ships Channel' on the western side of the entrance and all vessels under 20 metres must use this as they enter and exit the Harbour. Permission must also be obtained from KHM control if you wish to cross the Harbour to and from Gunwharf Quays and The Camber Dock. 
Users of the Harbour should make themselves fully aware of the contents of the order and copies are available from the Bridgehead Office. 
Contact KHM on VHF Channel 11 or 13, Tel 023 9272 3124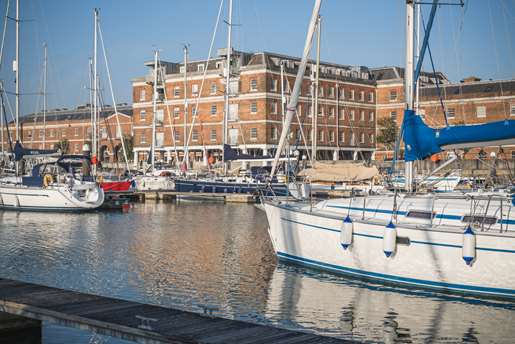 TransEurope Marinas
We are members of TransEurope Marinas. This allows our customers to enjoy a 50% berthing discount for up to five days a year in each marina facility within the Transeurope network, using your membership card. This now encompasses 90 marinas in 12 different countries, including all around the UK to Turkey, Morocco and Madeira. 

Contact our friendly Waterside Crew: 
Royal Clarence Waterside & Marina office is open 8am until 5:30pm Monday to Thursday and 8am - 6pm on Friday to Sunday including bank holidays during the summer.  
The office is open 7 days a week between 8am and 5pm during October to March. 
You can call us on 023 9252 3523 within these hours. 
During seasonal and bank holidays our typical office hours may vary, please call the waterside office before making a visit. 
discover the life
To moor with us at Royal Clarence Waterside & Marina please get in touch