discover the life
Kings Bromley Waterside & Marina
Lichfield Road, Bromley Hayes, Lichfield, WS13 8HT
01543 417209
A countryside retreat near Burton on Trent
Trees, wildlife and calm waters – that's what you'll find at Kings Bromley Waterside & Marina, all near Burton on Trent, Lichfield, or Fradley Junction.
Surrounded by countryside, this quiet spot on the Trent and Mersey Canal is the perfect place to get away from it all.
Conveniently situated in Staffordshire, Kings Bromley also has some great cruising routes, with Fradley Junction only a few miles away– it's a great base to explore the Four Counties and the Cheshire
Ring.
But there's plenty to do on land, too, like the iconic National Memorial Arboretum, the Lichfield Cathedral, and the Tamworth Castle, all waiting to be explored.
There's also a nice pub just a short walk from the marina. For commuters, you've also got easy access to the A38, which is 10 minutes from the marina.
View on Google maps

See the marina layout

Find us by water
Kings Bromley facilities - NEWLY REFURBISHED
We've recently completed an extensive refurbishment of our facilities to further enhance your waterside experience. We've got all your practical needs covered with a full array of luxury facilities that you'd expect from modern waterside living, including:
Safety & security 
Secure marina 
Gated entrance
CCTV
Staff who live onsite

All jetties are well-lit at night

 

A sense of privacy for customers

 

24-hour emergency call out 

 
Facilities 
NEWLY REFURBISHED luxury ensuite bathrooms with hairdryers, open 24/7 
NEWLY REFURBISHED laundry room with state-of-the-art washers & dryers, open 24/7 
NEWLY REFURBISHED customer lounge &

s

un terrace

NEW Island pergola & BBQ for social events
Free vend pet laundry machines
Summer house for customer use

Ample parking 

 

Refuse and recycling facilities

 

Small chandlery and shop

 
NEW Dog wash with warm water
Services 
Fully serviced pontoons with metered electricity and water

 
NEW high speed Wi-fi

Diesel, Calor gas, coal and logs available

 

Pump

-

out and NEW Elsan disposal 

Designated work bay

 
Boat Sales
Kings Bromley Waterside & Marina is fully equipped with modern facilities, including secure mooring spaces, electricity, water, and Wi-Fi. Our High Use Premium mooring spaces are perfect for those looking for a unique and comfortable place to call their base. Friendly and knowledgeable staff are always available to provide assistance, and our excellent on-site amenities include luxury ensuite bathrooms.
Your mooring options at Kings Bromley Waterside & Marina are:
Leisure moorings
High Use Premium moorings
Visitor moorings
Winter moorings
If you choose an annual contract, either high use premium or leisure, as well as access to all of the facilities plus:
Explore 34 – Free stop-overs at other marinas in the Aquavista group
Moor Benefits – Access to our exclusive Moor Benefits programme including 10% off diesel and 5% off gas and coal
Payment options – quarterly or annual
Regular newsletters and surveys – keep up to date with important news about our marinas, and provide feedback.
High Use Premium mooring package
A HUP mooring means you get a whole bunch of benefits including:
Your own secure post box - all your mail can be delivered to a lockable post box at the marina
A parcel collection point for your larger parcels
A 2000L Keter storage box to store your belongings securely, including your bikes.
One free wash & dry per week in our laundry facility
One free pump out per month
Access to Vivup Lifestyle Discounts – discounts on lots of high street brands and supermarkets
Kings Bromley Waterside & Marina photo gallery
Aerial view of Kings Bromley Marina.
Kings Bromley Marina from the air.
View of the countryside featuring Kings Bromley Marina.
Five ducks resting on the jetty.
A long line of narrowboats moored up to the jetty.
A bustling marina with lots of boats.
Kings Bromley Waterside & Marina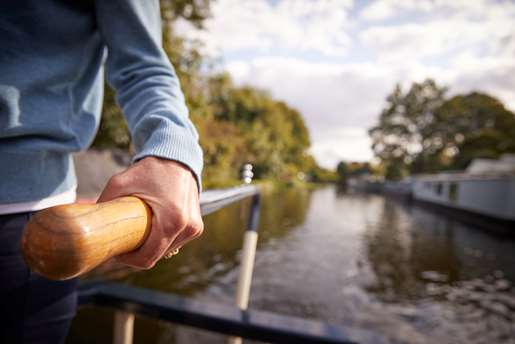 Explore 34 – your free Aquavista stop-overs
We have 29 unique and special locations around the UK, and our Explore 34 benefit means when you moor with us on an annual contract, you can stay at any of our other marinas for up to 34 nights at no extra cost*.
Things to do in the local area
Thanks to its convenient location near the Cheshire Ring, residents and visitors of Kings Bromley Waterside & Marina will always have something to do.
The Four Counties is at your fingertips, with the marina located near Burton on Trent, Lichfield, and Fradley Junction. This places iconic sights like the stunning Lichfield Cathedral and the eye-catching Tamworth Castle within a short distance - all while being surrounded by Staffordshire's rural bliss. 
But Kings Bromley Waterside & Marina is far more than a place to take in the sights - it's also a place to call home. 
It's just a half-an-hour walk (or a short drive) to Kings Bromley village, where you'll find shops, a cashpoint and the Royal Oak pub. For more shops, you've also got Lichfield nearby – it's just a 10-minute drive.  
For commuters, Kings Bromley is really well connected – the A38 is only a 10-minute drive away. From there, you've got easy access to Burton-on-Trent and the M6. 
Cruising from Kings Bromley
Sitting on the Trent and Mersey, Kings Bromley has 90 miles of waterways to explore. 
Fradley Junction is only a few miles away – it's a great base to explore the Four Counties and the Cheshire Ring, which wind through some jaw-dropping countryside locations. 
The canal's got some great history behind it, too – it was one of the earliest canals to be built, and it's well known for its tunnels at Harecastle, Barnton, Saltersford and Preston Brook. 
So, if you're interested in marinas near Burton on Trent, the Cheshire Ring, Lichfield, or Fradley Junction, look no further than Kings Bromley Waterside & Marina. Contact us today to secure your mooring.
Contact our friendly Waterside Crew:
Kings Bromley Waterside & Marina is open 9am to 5pm Monday to Saturday and 10am to 4pm on Sundays.
You can call us on 01543 417209 and we will be more than happy to help you or arrange an appointment to view the marina.
During seasonal and bank holidays our typical office hours may vary, please call the waterside office before making a visit.
discover the life
To moor with us at Kings Bromley Waterside & Marina please get in touch