16 4 21 Hull Waterside Marina 00943
discover something new
Marina Services
Aquavista are experts in boat care. Whether its inland or coastal, we have the knowledge and contacts to keep you afloat. Our full range of boat services are here to help you keep on top of planned maintenance and help prevent breakdowns. We can handle mechanical and electrical, water and heating, structural and fuel.
Inland Marinas
Narrowboats require regular maintenance to ensure trouble free boating, to enhance your experience and help protect your investment. Breakdowns are rare, but regular servicing can help minimize the risk.
We can arrange mechanical, boat blacking, anode replacement, surveys, bow & tunnel flash painting, engineering works and pretty much anything else required, depending on location and availability.
Dry dock
• Our dry docks at Ventnor, Cropredy and Crick are the perfect place to get your blacking done and we'll remove and replace your old anodes if they are ready for changing.

Wet dock
• For canal side repairs, engineering work and alterations talk to your local Waterside Manager as we may be able to accommodate your boat in a maintenance wet dock or service pontoon or there may be a spot in the marina ideal for you to get that painting done or a bit of woodwork.

Slipway
• Many of our marinas have a slipway which are available for public use. Check with your local marina for details and charges.
Yard facilities
• We have boat yard facilities if you need to get your boat out of the water in Hull, East Yorkshire, Glasson near Lancaster, Birdham Pool in Chichester and we have limited space for inland craft at Priory near Bedford on the Great River Ouse. There are numerous other spots around the Aquavista estate where you can work on your boat and don't forget we have dry docks at Crick, Cropredy and Ventnor, all ideally located for that halfway stop when transiting north or south on the network.
To find out more get in touch with our waterside crew at any of our marinas on the main office numbers.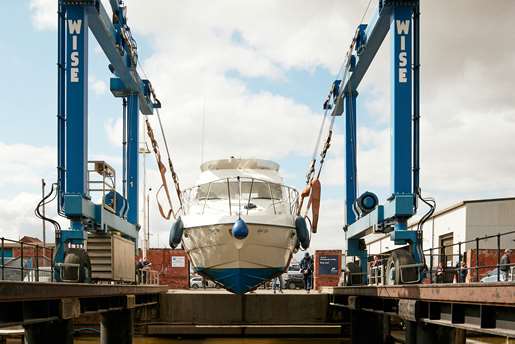 Coastal Boat Services
If you are looking for somewhere to launch your boat from HGV transport Aquavista marinas can crane your boat in at Glasson Waterside & Marina in Lancaster on the Lune Estuary/Lancaster Canal, Hull Waterside & Marina on the Yorkshire coast or Birdham Pool Waterside & Marina in Chichester on the South Coast. All these locations have dedicated hard standing areas for boats so if you need to some repairs or get the bottom anti-fouled before launching our coastal marinas are the perfect place.
Birdham Pool Waterside & Marina
Birdham Pool Waterside & Marina is the oldest marina in the UK and our haven for classic and traditional boats. Even its location, just four miles from the historic county town of Chichester, nestled in an Area of Outstanding Natural Beauty, reflects the pace and elegance of a bygone age.
Looking after traditional boats is what we're exceptionally good at: Our 30 tonne crane and boat transporter, dry storage ashore and a boat yard of modern and traditional skills offered by our tenant artisans means we're geared for storage, repair and maintenance of all watercraft.
Boat Lift
Birdham Pool has a 30-tonne crane available to all boat owners including visiting vessels. We can offer a lift and hold including a jet wash to get you race ready again, or for more serious work we can arrange a lift out into the yard so you can carry out all your below the waterline essential maintenance. Our team can undertake work on your behalf, or put you in touch with specialist services for marine engineering, GRP repairs and rigging work etc.
Antifouling
We can offer you an antifouling package to lift out, jet wash, paint and relaunch, at competitive prices. 
Glasson Waterside & Marina
Glasson Marine Services is our very own experienced team of marine engineers. They are there to help you ensure that your boat is kept or returned to the very best condition. Our team offer a wide range of services and have over 30 years of dedicated professional experience in repair, paintwork, rigging and much more. 
Our workshop offers an extensive range of boat maintenance services. On-site we have a 50-tonne hoist which makes all types of work possible. Also on offer is our onsite chandlery, to find out more about Glasson chandlery, click here.
Our boat yard at Hull Waterside & Marina is set in our unique city centre Historic Town Docks complex and is the only marina on the east coast with an undercover boat shed so you can keep working even when the weather is against you. Local tenant businesses are on hand for GRP repairs and insurance work, highly skilled marine engineers and a great place to get a lift and hold with a pressure wash for those important sale or condition surveys.  The boat hoist is rated at 50-tonnes, and we use a range of specialist moving equipment to transport boats to the boat yard and undercover areas.
| | | | | | | | |
| --- | --- | --- | --- | --- | --- | --- | --- |
| Marina | Boat Lift | Pressure Wash | Lift and Hold + PW | Undercover | GRP repairs | Marine Engineers | Un/Load to HGV |
| Birdham Pool | 30 T | Yes | Yes | No | Yes | Yes | Yes |
| Glasson Dock | 50 T | Yes | Yes | Yes | Yes | Yes | Yes |
| Hull | 50 T | Yes | Yes | Yes | Yes | Yes | Yes |
discover the life
If you are interested in mooring at one of our
Waterside & Marinas please get in touch