discover the life
Kings Waterside & Marina
Mather Road, Newark, Nottinghamshire, NG24 1FW
01636 678549
Market town of Newark on your doorstep
Kings Waterside & Marina lies on the River Trent in the historic town of Newark in Nottinghamshire. You can live in this idyllic setting and commute to Nottingham or even London with relative ease. Or you can enjoy a leisure mooring and cruise onto the tidal River Trent to explore the Midlands or head out to the mighty Humber Estuary. This is a gated marina, and with town and country surrounding you, it's secure, peaceful and ideally located.
View on Google maps

See the marina layout

Find us by water
We have your practical needs covered with a full array of Aquavista brilliant basics that you'd expect from modern waterside living including: 
Safety & security 
A secure marina with CCTV and key fob access to entrance gates and facilities block
Jetties are well-lit at night 
Well-kept environments
24 hour emergency call out
Facilities 
Laundry room 
Showers and toilets, open 24/7
Free high-speed Wi-fi
Refuse and recycling facilities
Free car parking
Red diesel and available onsite, tended service
Services 
Fully serviced jetties with electricity and water
Pump-out, tended service
1 Elsan disposal point
Your mooring options at Kings Waterside & Marina are:
Leisure moorings
Residential moorings
Visitor moorings
Winter moorings
If you choose an annual contract, either residential or leisure, as well as access to all of the facilities you also receive:
Explore 34 – Free stop-overs at other marinas in the Aquavista group
Moor Benefits – Access to our exclusive Moor Benefits programme
A choice of payment options – quarterly or annual
Regular newsletters and surveys – We make sure you're up to date with any important news about our marinas, and we love getting your feedback on how we're doing
Residential mooring package
A residential mooring means that Kings would become your legally recognised residence and you could officially call it your home. You would also receive a host of other benefits including:
A registered UK postal address and post box - all your mail can be delivered to a lockable post box at the marina, and you can use the marina address to register for doctors and schools etc.
Free council tax when choosing a composite council tax option
A secure parcel collection point for your parcels
A 2000L Keter storage box to store your belongings securely, including your bikes.
One free wash & dry per week 
One free pump out per month
Access to Vivup Lifestyle Discounts – discounts on lots of high street brands and supermarkets
Kings Waterside & Marina photo gallery
Moored canal boats on the riverside with reflective water and a bridge.
beautiful dutch barge with boats in the background
Side view of large motor cruiser
Kings Waterside & Marina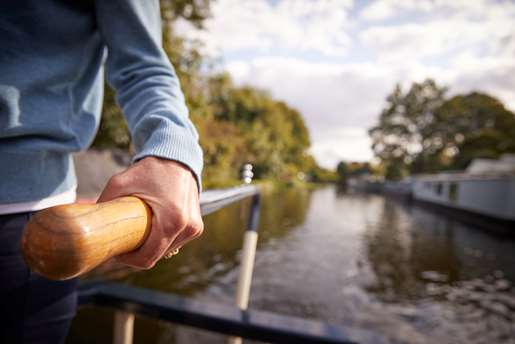 Explore 34 – your free Aquavista stop-overs
We have 29 unique and special locations around the UK, and our Explore 34 benefit means when you moor with us on an annual contract, you can stay at any of our other marinas for up to 34 nights at no extra cost*.
Things to do in Nottinghamshire and nearby
Newark on Trent is a pretty market town with lots happening. Explore the castle and gardens, visit the Civil War Centre to discover Newark's pivotal role in the English Civil War, browse the busy markets – among the best on the UK - and don't miss the Newark Air Museum. At the Newark Showground enjoy everything from Antique and Collectors Fairs to the Nottinghamshire County Show. If nature and the great outdoors beckon, you couldn't be better placed. Sherwood Forest is just a short drive and Balderton Lake is a hidden gem in Newark, for walking, birdwatching and fishing. City life is close by too, with Nottingham and Lincoln both around 20 miles away.
Life on the water at Kings Waterside and Marina
Moored here for 3 nights. Arrived on Monday 21st September when the office was closed but the manager still came to help us with a mooring. He couldn't have been more helpful. Clean and tidy facilities and secure site. Would definitely recommend.

Jane Straw 
Kings Waterside & Marina is open 9am to 5pm Monday to Friday and 9am to 10am Saturday and Sunday.
You can call us on 01636 678549 within these hours.
During seasonal and bank holidays our typical office hours may vary, please call the waterside office before making a visit.
discover the life
To moor with us at Kings Waterside & Marina please get in touch