discover the life
Pennington Waterside & Marina
Plank Lane, Leigh, Lancashire, WN7 4EZ
01257 481054
An exclusive development in a smart, modern setting
Pennington is a newly built marina with moorings for narrowboats, widebeams and cruisers. Part of a wider residential development on the outskirts of Leigh, there are plans for a café, community centre, and a family-friendly pub and shop. With new, non-slip pontoons, a smart facilities block and the friendly team, who are onsite regularly at the marina office, it's a modern and popular marina. Mooring here, you are on the Leigh Branch of the Leeds & Liverpool Canal, linking directly to the Bridgewater Canal, a much-loved stretch for cruisers, and convenient for the wider waterways. The local town, Leigh is on your doorstep, Manchester is just 20 miles away, and you can reach the motorway network in under 10 minutes.
View on Google maps

See the marina layout

Find us by water
Moorings at Pennington Waterside and Marina
Pennington Marina is a new development with a small number of berths, which are exclusively let for leisure mooring:
Things to do in Lancashire and nearby
Get close to nature at Pennington Flash, a 170-acre lake surrounded by a country park and nature reserve with a wonderful variety of wildlife, including over 230 bird species. With a 9-hole golf course, children's play area, sailing, surfing and more, you could spend the day here, quite happily. Visit Leigh for high street shops, multiplex cinema and the sports centre, which is home to Leigh Centurions and Manchester United Reserves. Spend a day at the races at Haydock Park Racecourse, just a 10-minute drive away, or head to Manchester for all the attractions of the big city.
Life on the water at Pennington Waterside and Marina
I love the time I spend on my boat at Pennington Waterside & Marina - it's a completely different pace of life and there is a good community spirit among berth-holders. It's a great base for cruising too, four hours into Manchester City Centre via the Bridgewater Canal.

John, Captain of Pintail
Pennington Wharf Marina photo gallery
Waterside view of the new marina and housing development
View of boat with modern look housing in the background
Towpath with grassy verge by the water
Pennington Waterside & Marina
View from the Waterside Crew
"Pennington Waterside & Marina is a fabulous new marina that boasts a great crew and fantastic facilities.  This is an aquatic recreational playground for all the family and a great place to travel to not escape life but for life not to escape you."

Emmalene - Waterside Manager
We have your practical needs covered with a full array of Aquavista brilliant basics that you'd expect from modern waterside living including: 
Safety & security 
A secure marina with key fob access gates and CCTV
All jetties have a non-slip surface and are well-lit at night 
Well-kept environments
24-hour emergency call out
Facilities 
Laundry room with 1 washer and 1 dryer
3 showers and 3 toilets, open 24/7
Free Wi-Fi
Free parking
Refuse and recycling facilities
Services 
Fully serviced jetties
Pump-out nearby
Excellent customer service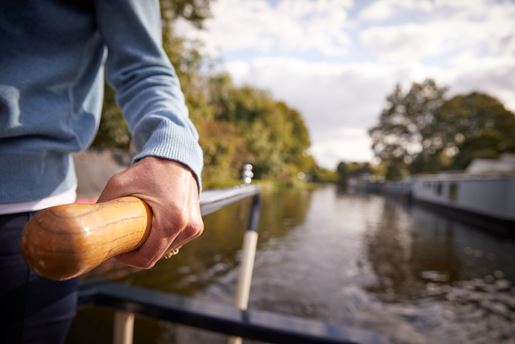 Explore 34 – your free Aquavista stop-overs
We have 29 unique and special locations around the UK, and our Explore 34 benefit means when you moor with us on an annual contract, you can stay at any of our other marinas for up to 34 nights at no extra cost*.
Pennington Waterside & Marina is open 10am - 2pm Thursday to Saturday
You can call us on 01159 077427 and we will be more than happy to help you or arrange an appointment to view the marina.
During seasonal and bank holidays our typical office hours may vary, please call the waterside office before making a visit.
discover the life
To moor with us at Pennington Waterside & Marina please get in touch