discover the life
Buckden Waterside & Marina
7a Marina View, Mill Road, Buckden, PE19 5BH
01480 812660
A quiet spot in the Cambridgeshire countryside 
If you're craving a bit of nature, come moor with us at Buckden – the marina is surrounded by willow trees, wildlife and all that lovely stuff. Set in 92 acres of Cambridgeshire countryside, it's a really peaceful spot to enjoy the water.  
At Buckden, you've got direct access to the River Great Ouse, which gives you 140 miles of water to cruise along. West will take you inland through some pretty towns and villages, and east takes you towards the coast and the North Sea. For advice on the best cruising routes, have a chat with the crew at Buckden – they're a lovely bunch, and they've made the marina a really special place.  
When you're ready for a day on land, Buckden village is a short walk from the marina. For commuters, you've also got easy access to Cambridge, which is only half an hour away.  
View on Google maps

See the marina layout

Find us by water
We've got all your practical needs covered with a full array of Aquavista brilliant basics that you'd expect from modern waterside living including: 
Safety & security 
A secure marina with a gated entrance to the pontoons and CCTV 
Floating pontoons which rise up and down with the river levels, meaning your boat is always secure even in the event of flooding 
All pontoons are well-lit at night 
24-hour emergency call out  
Facilities 
Modern toilet and shower facilities, open 24/7 
Laundrette, open 24/7 
Ample parking and plenty of trollies available 
Refuse and recycling facilities 
Services 
Fully serviced pontoons with electricity and water 
Diesel, Calor Gas, coal and logs available 
Pump-out and Elsan disposal 
Slipway 
Boat sales  
Storage, boat lifting and Slipway 
On-site repairs and engineering 
Your mooring options at Buckden Waterside & Marina are:
Leisure moorings
Visitor moorings
Winter moorings
If you choose an annual contract,  as well as access to all of the facilities you also receive:
Explore 34 – Free stop-overs at other marinas in the Aquavista group
Moor Benefits – Access to our exclusive Moor Benefits programme including 10% off Diesel and 5% off Gas
A choice of payment options – quarterly or annual
Regular newsletters and surveys – We make sure you're up to date with any important news about our marinas, and we love getting your feedback on how we're doing
Buckden Waterside & Marina photo gallery
Buckden Marina from the air.
Long view of fields and water, you can see Buckden Marina.
Aerial view of Buckden Marina.
Grey jetty with boats moored either side.
Buckden Waterside & Marina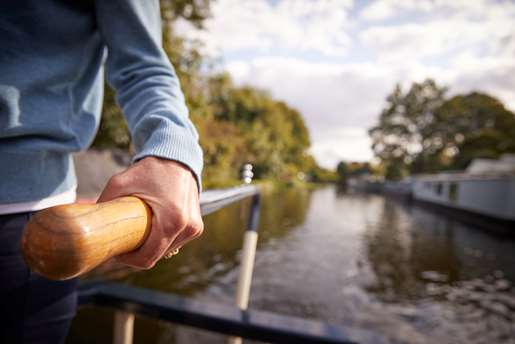 Explore 34 – your free Aquavista stop-overs
We have 29 unique and special locations around the UK, and our Explore 34 benefit means when you moor with us on an annual contract, you can stay at any of our other marinas for up to 34 nights at no extra cost*.
Things to do in the local area
Buckden marina is a really calm spot to moor up for a while – but there's still plenty to do nearby. You'll find the historical Buckden village just a short walk away from the marina – it's famous for Buckden Towers, which you can book a visit to go see. The village also has a pub and a couple of nice hotels where you can grab some food, along with a butcher's, a supermarket and a pharmacy.  
For more shopping, there's also a few great towns nearby. Five miles south will take you to St Neots, and six miles north you'll find Huntingdon – both have train stations, so they're good places to commute from.  
Speaking of commuting, Buckden is super well connected. The marina is only a couple of miles from the A1 – you can be in Cambridge in half an hour, and an hour's travel will take you to London.  
Cruising from Buckden
The River Great Ouse winds through East Anglia's flat landscape for 75 miles – and then you've got all its tributaries like the River Cam, Lark, Little Ouse and Wissey. All this adds up to 140 miles of navigable waterways to explore, flowing through some of Britain's most unspoilt water environments.  
Along the way, there's loads of towns and villages to see, which have some great mooring points. If you're an annual contract holder, you can also stop for free at our sister marina in Priory – it's only a day's cruise away. 
If you've got a seagoing vessel, you can head east from Buckden and cruise the North Sea, which takes you to North Norfolk coast resorts like Wells-next-the-Sea, Brancaster and Blakeney. For more information about these cruising routes, visit the Sail the Wash site: www.sailthewash.com
Contact our friendly Waterside Crew:
Buckden Waterside & Marina is open: Closed Monday
Tuesday - Friday: 9am - 5pm  
Saturday - Sunday: 10am - 4pm
You can call us on 01480 812660 and we will be more than happy to help you or arrange an appointment to view the marina.
During seasonal and bank holidays our typical office hours may vary, please call the waterside office before making a visit.
discover the life
To moor with us at Buckden Waterside & Marina please get in touch