discover the life
Crick Waterside & Marina
West Haddon Road, Crick, NN6 7SQ
01788 824034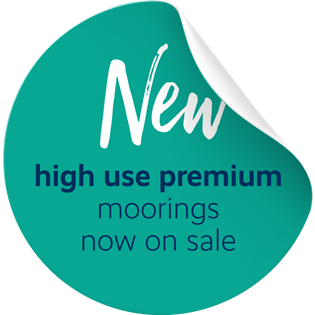 High User Premium
Come for the quiet, stay for the boat show  
Take a break from city life by mooring up with us at Crick Marina – it's super peaceful here. The calm waters and green fields make it feel almost like a country retreat, but you've still got all the modern stuff you'd expect from a first-class marina – so you can relax straight into your life on the water.  
For a place this quiet, you'd be surprised how well connected it is. The town of Rugby is only a few miles away – it's got loads of shops, bars and restaurants to explore. For more shopping options, you've got Northampton, which is a half-an-hour drive from the marina. It's also a handy spot for commuters – the M1 is only a mile away.  
The marina is also home to the famous Crick Boat Show, which gives you a chance to see some of the country's best-looking boats (and eat some great food). Trust us, you'll never want to leave.  
View on Google maps

See the marina layout

Find us by water
We've got all your practical needs covered with a full array of Aquavista brilliant basics that you'd expect from modern waterside living including: 
Safety & security 
The marina isn't open to the general public and is located on the canal off-side

 

A secure marina with a gated entrance, CCTV and staff who live onsite

 

All jetties have a non-slip surface and are well-lit at night

 

24-hour emergency call

-

out 

 
Facilities 
Modern toilet and shower facilities, open 24/7

 

Laundrette, open 24/7

 

Ample parking with unloading bays close to jetties

 

Electric car charging

 

Refuse and recycling facilities 

 

Dog walking field
Services 
Fully serviced jetties with metered electricity and water

 
High speed Wi-fi coming soon

Diesel, Calor Gas, coal and logs available

 

Pump

-

out and Elsan disposal

 

Fully enclosed

d

ry dock

 

Boat

s

ales
Your mooring options at Crick Waterside & Marina are:
Leisure moorings
Residential moorings (coming soon)
Visitor moorings
Winter moorings
If you choose an annual contract, either residential or leisure, as well as access to all of the facilities you also receive:
Explore 34 – Free stop-overs at other marinas in the Aquavista group
Moor Benefits – Access to our exclusive Moor Benefits programme including 10% Diesel and 5% off Gas
A choice of payment options – quarterly or annual
Regular newsletters and surveys – We make sure you're up to date with any important news about our marinas, and we love getting your feedback on how we're doing
Residential mooring package (coming soon)
A residential mooring means that Crick would become your legally recognised residence and you could officially call it your home. You would also receive a host of other benefits including:
A registered UK postal address and post box - all your mail can be delivered to a lockable post box at the marina, and you can use the marina address to register for doctors and schools etc.
Free council tax when choosing a composite council tax option
A secure parcel collection point for your parcels
A 2000L Keter storage box to store your belongings securely, including your bikes.
One free wash & dry per week in our upgraded laundry facility
One free pump out per month
Access to Vivup Lifestyle Discounts – discounts on lots of high street brands and supermarkets
Crick Waterside & Marina photo gallery
Flowers on the roof of a narrowboat.
Rows of boats at Crick Marina.
Countryside views with Crick Marina.
A row of narrowboats at the marina.
Aerial view of Crick Marina.
Crick Waterside & Marina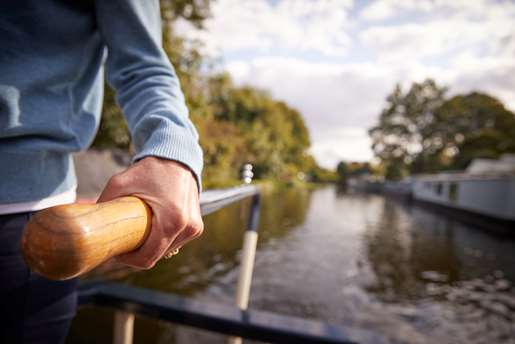 Explore 34 – your free Aquavista stop-overs
We have 29 unique and special locations around the UK, and our Explore 34 benefit means when you moor with us on an annual contract, you can stay at any of our other marinas for up to 34 nights at no extra cost*.
Things to do in the local area
Crick Marina is a really peaceful spot to moor but there's still loads to do nearby. For commuters, you're only a two-minute drive from junction 18 of the M1 – although you wouldn't know it once you're here (seriously, it's so quiet). You've also got Northampton and Rugby within easy reach, which you get to by car or bus (the bus stop is at the bottom of our drive).  
But you don't need to go that far for things to do – it's only a couple of minutes' walk into Crick, which is a lovely little village. You'll find everything you need there, including a Post Office, Co-op, hairdresser's, doctor's surgery, café, a working men's club and three great pubs. There's also a monthly craft market, which you'll find at the school on the main road, and a really old church (which is just nice to look at). When you're walking into the village, be sure to stop by the garden centre too.  
Perfectly placed on the Leicester Line of the Grand Union Canal, Crick Marina gives you 21 miles of lock-free cruising – along with easy access to all the major cruising routes. Whether you're looking for relaxed weekends afloat or some serious time on the water, you've got it all here.  
Contact our friendly Waterside Crew: 
Crick Waterside & Marina is open 9am to 5pm Monday to Sunday. 
You can call us on 01788 824034 and we will be more than happy to help you or arrange an appointment to view the marina.
During seasonal and bank holidays our typical office hours may vary, please call the waterside office before making a visit. 
discover the life
To moor with us at Crick Waterside & Marina please get in touch