discover new places
London Residential moorings
Your waterside & marina home right in the heart of the capital
Residential & transferable moorings in London
Dreaming of a lifestyle change that doesn't involve leaving the big city behind? Whether you're seeking a slower pace, beautiful natural views or a less stressful commute, swapping bricks and mortar for the gleaming teak of a houseboat on a tranquil London waterway could be the answer. 
Buy a boat with a transferable residential licence at one of Aquavista's pretty London marinas and you could be waking up to the sound of ducks, chatting to like-minded neighbours and cycling to work along a quiet towpath. Facilities from Wi-Fi and showers to electricity and water means you won't be going off-grid and, with two great locations in the heart of the city, you'll be able to dip a toe into the hustle and bustle of the capital whenever you wish.
But what is a transferable residential licence and what makes it of particular importance for those wishing to live on-board in London? This guide explains the benefits of buying a boat with residential moorings in London, and how Aquavista's marinas at Limehouse and Poplar can help turn your dream city lifestyle into a reality.
What is a transferable residential licence and why is it so important in London?
Living on-board a boat in the capital has never been more popular. The 100 miles of canals that run through London are lined with over 4,000 boats of all shapes and sizes, a figure that's already higher than Amsterdam and growing each year. According to the Canal & River Trust, there are now more licensed boats using the canals than there were at the height of the industrial revolution. 
From actors to lawyers, artists to entrepreneurs, some 10,000 people make up this floating community, all seeking out more relaxed ways to live in the capital. But this growing number of boat dwellers brings with it a problem - space. More boats are competing for places along the towpath than ever before, making finding residential moorings in London notoriously difficult.
Securing a London residential mooring can be one of the biggest challenges for boaters hoping to start a live-aboard lifestyle in the capital. Gated and secure, marinas are always a popular choice for boaters in the city, but most residential berths are already full to capacity and some marinas have waiting lists of up to 10 years' long. 
But there is a way to jump the queue. Buying a boat with a transferable residential licence can get you the vessel of your dreams in a prime location right in the heart of the city. But for those who want to live in a marina in central London, it's more than just a desirable option. Buying a boat with a transferable licence is now the only practicable way to secure a residential mooring.
How does a transferable licence work?
When you buy a boat at a London marina, it will say if it comes with a transferable licence as part of the deal. If it does, you'll not only get the boat, but the mooring will also be transferred into your name. It's important that you check the small print because transference of the mooring right is not automatic. You must obtain the written agreement of the site operator.
Luckily, when you buy a boat from one of Aquavista's London marinas, our brokerage service makes this easy. Boats for sale in our London marinas at Limehouse and Poplar are sold with a transferable licence to moor, subject to a successful application. In these marinas, additional charges will apply to transfer the berth into your name, whether you choose to buy your boat through Aquavista or a third-party broker.
Are there any downsides to buying a boat with a transferable mooring?
While it's possible to buy a boat relatively cheaply, vessels that come with a London residential mooring usually sell at a premium. But remember that this works both ways. Having a residential berth in a desirable London postcode will make your boat a more attractive proposition if and when you come to sell!
Why choose one of Aquavista's London marinas for your residential mooring?
Choosing an Aquavista marina means a full array of brilliant basics comes as standard. You'll find secure moorings, well-kept environments, shower, toilet and laundry facilities, CCTV, Wi-Fi, working pumps and lighting, as well as excellent customer service. In short, we offer everything you'd expect from modern waterside living.
But a residential mooring with Aquavista offers even more ways to make living on-board plain sailing. From your own post box to Explore 34 at other Aquavista marinas nationwide, our residential berths give you hundreds of pounds worth of additional benefits. You can read more about the benefits of a residential mooring at Aquavista here, or read our guide to residential living.
But there's something about Aquavista's London marinas that makes life in the capital extra special. Here's why we think our Waterside & Marinas at Limehouse and Poplar will make the perfect location for your new, carefree lifestyle by the water.
What are the benefits of a residential mooring at a London marina?
If you plan to live on-board your boat full-time without securing residential moorings, your only other option is to continuously cruise the waterways. As part of the terms of your continuous cruiser licence, you're committed to moving your boat every two weeks.
It sounds romantic, but for those tied to an area for work or school, this nomadic lifestyle may not be feasible. With a large number of boats competing for mooring space it can be stressful, especially in winter. And even if you do find a space to moor your boat there's no guarantee you'll have easy access to water and electricity, while a lack of postal address means you won't be able to sign on with a GP.
To really put down anchor in the capital means securing a residential mooring, and it's easy to see why marinas are such an attractive proposition. With reliable access to electricity, water and WiFi, they're as close as you can get to living on a boat without losing the convenience of living on dry land. Many have extra facilities such as showers and laundry, plus you'll get a postal address which means you can go on the electoral roll, letting you sign on with the GP.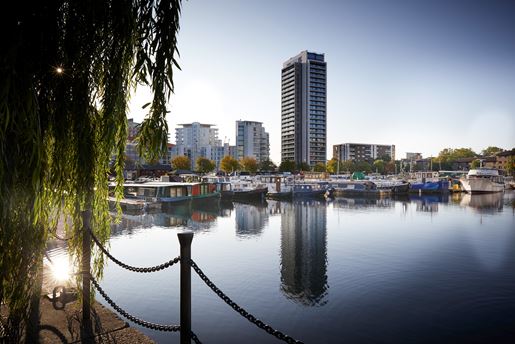 Sense of connection
Take up a residential mooring at a London Aquavista marina and you'll become part of a close-knit community of like-minded boat owners. Our London marinas attract residents drawn from a wide variety of careers, from artists and actors to doctors and engineers. But while the people who live at our London marinas come from all walks of life, they're all invested in their environment and can share in the joys and adventures of living on the water, giving you an instant sense of connection that's rare in the big city.
Close to nature in the capital
Both Poplar and Limehouse Waterside & Marinas are little pieces of natural wonder in the heart of the city, and living on your boat gives you a direct connection to a whole host of wildlife. Nothing beats feeding the ducks your leftover toast crumbs in the morning, but you might also catch a glimpse of herons, carp and waterfowl. London's canals are true wildlife corridors and are very high in ecological value, offering the kind of tranquillity that city-dwellers crave.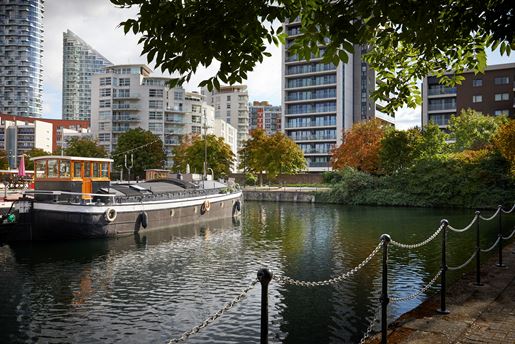 Incredible locations
A residential mooring at one of Aquavista's London marinas gives you a private waterside location that feels miles away from all the hustle and bustle of the big city. But because Limehouse and Poplar are both so well connected, you'll have the whole of London on your doorstep. Limehouse is ideally located between the City of London and Canary Wharf, just a short walk from Limehouse Station. Poplar lies just to the east of Canary Wharf, with central London just minutes away on the Jubilee Line.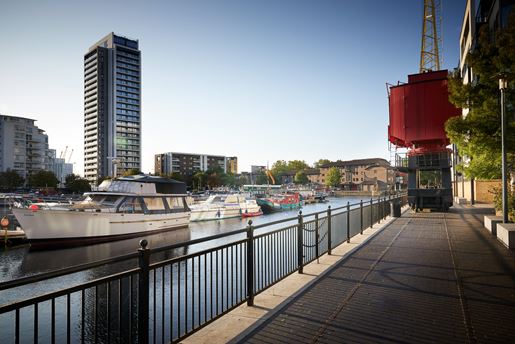 Access to the world's most iconic waterways
Buying a boat with a transferable residential licence to moor at Limehouse or Poplar offers you the rare opportunity to live on the Thames, the world's most iconic waterway. And if you plan to take your boat out on the water, some intriguing cruising options await. Mooring at Poplar is your gateway to the beautiful waterways along the Thames, while Limehouse Waterside & Marina is connected to the Regent's Canal and the River Lee via the Limehouse Cut, along with a connection to the River Thames.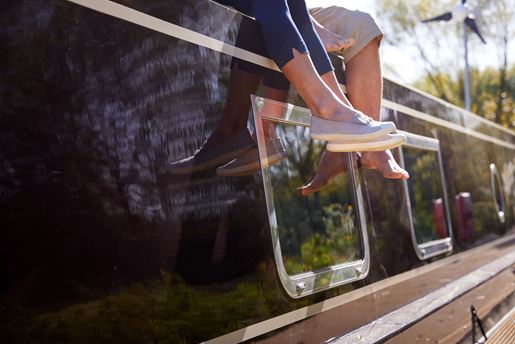 Healthier lifestyle
London's boutique gyms can be pricey, but who needs a membership when you live at an Aquavista marina in the capital? Getting outdoors in the fresh air and sunshine comes as standard when you live on a boat, but it's not just chores that will keep you fit and healthy. At Limehouse there's an 11-mile traffic-free towpath that takes you to Regent's Park, perfect if you love to cycle. And Poplar is a walker's paradise with Canary Wharf, Greenwich and the green spaces of Mudchute Park and Farm just short strolls away.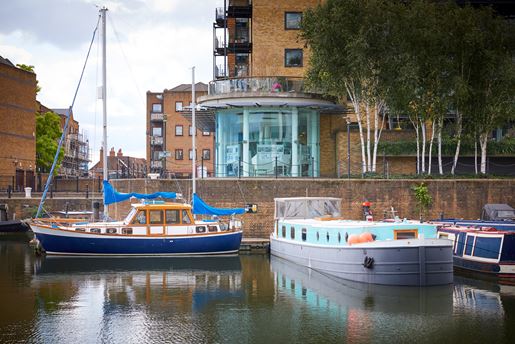 Facilities right on your doorstep
Our Waterside & Marinas at Limehouse and Poplar may feel like an oasis of calm, but the buzz of London is just minutes away. Foodies are spoilt for choice at Limehouse, where the world's cuisine awaits them on Narrow Street, just beyond the marina gates. There are three pubs with riverside views within a five -minute walk while The Cruising Association Headquarters is located by the marina too. 
At Poplar you'll find Billingsgate Market close by for fresh fish, and the pretty shops and restaurants of Greenwich are just a half an hour's stroll through the Isle of Dogs and across the river.
And if you're in need of some retail therapy it takes less than 20 minutes to walk to Canary Wharf from both Limehouse and Poplar Waterside & Marinas, where you can shop (and eat!) until you drop.
Want to find out more about buying a boat with residential moorings in London? 
At Aquavista, we're here to lend a hand with every step of your boating journey, and the first step is finding the boat that's right for you. Visit our London buy a boat page to view everything on offer at Limehouse or Poplar. You can also filter by boat type if you've got something particular in mind.
Seen a boat you like? Our experienced brokers can guide you through the process from start to finish. You can email them on boatsales@aquavista.com or call 0207 3089 930 to speak to them directly. We can't wait to have you on-board!
discover the life
If you're interested in a London residential mooring please get in touch