discover the life
Lemonroyd Waterside & Marina
Fleet Lane, Methley, Leeds, Yorkshire, LS26 9AJ
01137 334985
A hidden gem within the Yorkshire waterways
Lemonroyd Waterside and Marina is hidden away on the Aire and Calder Navigation at Methley, adjacent to Lemonroyd Lock. The waterside setting is sheltered by woodland, away from the hustle and bustle of everyday life. And yet this peaceful location is surprisingly well connected, with direct access via Lemonroyd Lock to the River Aire, for passage towards Leeds in the west, or east to Goole and Selby, and on to the tidal Ouse for York, Hull and the Trent ports. Enjoy the gentle pace of rural life just seven miles from the bustling city of Leeds and with easy access to the road and rail networks of Yorkshire.
View on Google maps

See the marina layout

Find us by water
We have your practical needs covered with a full array of Aquavista brilliant basics that you'd expect from modern waterside living including: 
Safety & security 
A secure marina with CCTV and key access to the jetties and facilities
All jetties have a non-slip surface and are well-lit at night 
Well-kept environments
24-hour emergency call out
Facilities 
Laundry room with a washer and a dryer
2 showers and 2 toilets, open 24/7
Refuse and recycling facilities
Free Wi-Fi
Allocated car parking
Services 
Fully serviced jetties
Pump-out, token operated
1 Elsan disposal point
Excellent customer service
Your mooring options at Lemonroyd Waterside & Marina are:
Leisure moorings
Residential moorings
Visitor moorings
Winter moorings
If you choose an annual contract, either residential or leisure, as well as access to all of the facilities you also receive:
Explore 34 – Free stop-overs at other marinas in the Aquavista group
Moor Benefits – Access to our exclusive Moor Benefits programme
A choice of payment options – quarterly or annual
Regular newsletters and surveys – We make sure you're up to date with any important news about our marinas, and we love getting your feedback on how we're doing
Residential mooring package
A residential mooring means that Lemonroyd would become your legally recognised residence and you could officially call it your home. You would also receive a host of other benefits including:
A registered UK postal address and post box - all your mail can be delivered to a lockable post box at the marina, and you can use the marina address to register for doctors and schools etc.
A secure parcel collection point for your parcels
One free wash & dry per week 
One free pump out per month
Access to Vivup Lifestyle Discounts – discounts on lots of high street brands and supermarkets
Life on the water at Lemonroyd Waterside and Marina
"It's a beautiful place to live. The people are so friendly and Maz who looks after the marina is an absolute star. I have lived here for over 20 years and would not want to change for anything".

Tracey, a resident at Lemonroyd Waterside & Marina
Lemonroyd Waterside & Marina photo gallery
Dutch barges against waterside
View from bridge overlooking the marina
Side view on shiny blue narrow boat
Grassed entrance with footbridge
Row of narrowboats on moorings
Lemonroyd Waterside & Marina
View from the Waterside Crew
"Adjacent to the mighty Lemonroyd lock nestles a thriving community of boaters with vessels of all shapes and sizes.  You wouldn't believe the hustle and bustle of Leeds is merely six miles further along the Aire and Calder.  Even closer still is a lovely spot to stop a while and mesmerise the quintessential delights of Woodlesford.  Lemonroyd Waterside and Marina is a popular choice for moorings in Yorkshire with a proud heritage that once served British industry and remains a haven for wildlife and somewhere people can get away from it all…" 

Barry - Waterside Operations Manager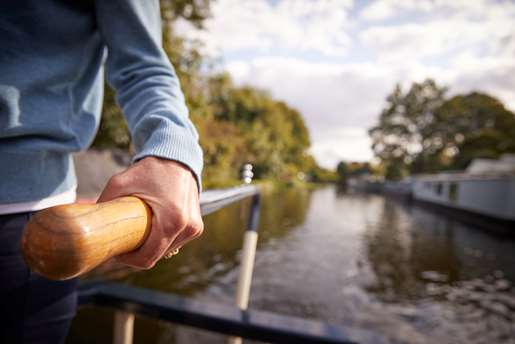 Explore 34 – your free Aquavista stop-overs
We have 29 unique and special locations around the UK, and our Explore 34 benefit means when you moor with us on an annual contract, you can stay at any of our other marinas for up to 34 nights at no extra cost*.
Things to do in Yorkshire and nearby
Stay local and enjoy riverside walks along the River Aire, spend time in the natural setting of Methley Wood just over the river, and enjoy badminton, gym or swimming at Rothwell Leisure Centre. Further afield, Leeds offers some of the best shopping in the country, as well as great attractions including The Royal Armouries Museum, Harewood House and Roundhay Park, which is 700 urban acres of lakes, gardens and amusements. If you're taking the children or grandchildren out, they'll love Diggerland and Riverside Paint a Pot at Castleford. 
Lemonroyd Waterside & Marina is open 8am until 4:00pm Monday/Tuesday, 8am until 2pm Wednesday/Thursday 8am until 11am Friday and 8am until 1pm on weekends.
You can call us on 01137334985 within these hours.
During seasonal and bank holidays our typical office hours may vary, please call the waterside office before making a visit.
discover the life
To moor with us at Lemonroyd Waterside & Marina please get in touch