discover the life
Cowroast Waterside & Marina
Wharf Lane, Tring, Hertfordshire, HP23 5RE
01442 823222
Take a look around Cowroast Waterside & Marina
A picturesque base on the Grand Union Canal
Situated on the Tring Summit of the Grand Union Canal, Cowroast Waterside & Marina offers you a secure mooring in picturesque surroundings. Cowroast is a good base as it's on a lock-free stretch of canal, it's also a perfect spot for cruising with friends and enjoying the views. Surrounded by fields and footpaths, with the local towns a short drive or bus journey away, you might be surprised to discover that that the nearest town, Tring, is just 46-minutes from London by train. The name Cowroast comes from "Cow Rest" and it was where the Romans would rest cattle on their way to Londinium. A Roman helmet found locally is in the British Museum.
View on Google maps

See the marina layout

Find us by water
We've got all your practical needs covered with a full array of Aquavista brilliant basics that you'd expect from modern waterside living including: 
Safety & security 
A secure marina with keyfob access gates and CCTV
All jetties are well-lit at night 
Well-kept environments
Defibrillator onsite
24 hour emergency call out
Facilities 
Laundry room with 3 washers and 3 dryers
5 toilets and 4 showers, open 24/7
Refuse and recycling facilities
Free allocated car parking
Free Wi-Fi
Red diesel, gas, coal and logs available onsite
Boat maintenance
Wet dock
Dry dock
Slipway
Moorers lounge
Services 
Fully serviced jetties
Pump-out, fob activated
1 Elsan disposal point, fob activated
Boat Sales
On-site marina services
Your mooring options at Cowroast Waterside & Marina are:
Leisure moorings
Residential moorings
Visitor moorings
Winter moorings
Restrictions: we can accommodate the majority of craft, however if your beam is greater than 3m you will be unable to pass through the entrance.
We can take wide-beams into the marina, however, this is strictly for the use of our pump-out facilities. Unfortunately we do not currently offer moorings to wide-beams at Cowroast Waterside & Marina.
If you choose an annual contract, either residential or leisure, as well as access to all of the facilities you also receive:
Explore 34 – Free stop-overs at other marinas in the Aquavista group
Moor Benefits – Access to our exclusive Moor Benefits programme
A choice of payment options – quarterly or annual
Regular newsletters and surveys – We make sure you're up to date with any important news about our marinas, and we love getting your feedback on how we're doing
Residential mooring package
A residential mooring means that Cowroast would become your legally recognised residence and you could officially call it your home. You would also receive a host of other benefits including:
A registered UK postal address and post box - all your mail can be delivered to a lockable post box at the marina, and you can use the marina address to register for doctors and schools etc.
A secure parcel collection point for your parcels
One free wash & dry per week
One free pump out per month
Access to Vivup Lifestyle Discounts – discounts on lots of high street brands and supermarkets
Cowroast Waterside & Marina photo gallery
Traditional boat at Cowroast
Outlook of open water and boats
Boat on a trailer in the workshop at Cowroast
View across the water with ducks and boats
Cowroast Waterside & Marina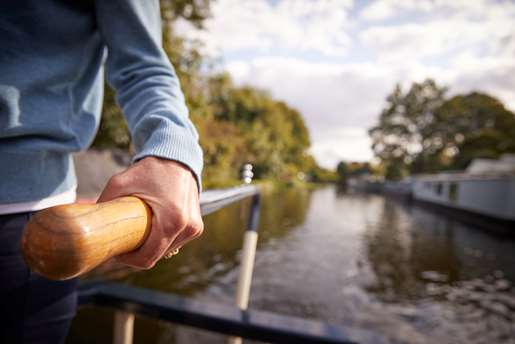 Explore 34 – your free Aquavista stop-overs
We have 29 unique and special locations around the UK, and our Explore 34 benefit means when you moor with us on an annual contract, you can stay at any of our other marinas for up to 34 nights at no extra cost*.
Things to do in Hertfordshire and nearby
The natural setting of the marina hints at the wonders of nature nearby. Visit Tring Park, 328 acres of broadleaf woodland, wildflowers and open vantage points with far-reaching views. Go birdwatching at College Lake Nature Reserve or see the countryside for miles from the breezy heights of Ivinghoe Beacon. In Tring, discover nature's past and present at the Natural History Museum, meander along the High Street, browsing the independent shops, visit the medieval church of St. Peter and St. Paul, or watch a film at Tring popup community cinema. For an adventure, pack a picnic and spend a day discovering the Chilterns or, for a complete contrast, hop on a train for a day trip to London.
View from the Waterside Crew
Being the Waterside Manager for Cowroast Marina makes coming to work feel special. The marina has its charms - one being the tranquillity of the rural surroundings it's set in. With the dedicated help of the onsite Crew and the strong community, we have transformed a mooring into a home for our residents.

Jason - Waterside Manager
Cowroast Waterside & Marina office is open:
Monday  10:30am - 5pm
Tuesday  Closed
Wednesday and Thursday 9am - 5pm
Friday 9am - 11:30am
Saturday and Sunday  Closed
You can call us on 01442 823222 within these hours.
During seasonal and bank holidays our typical office hours may vary, please call the waterside office before making a visit.
discover the life
To moor with us at Cowroast Waterside & Marina please get in touch