discover the life
Cropredy Waterside & Marina
Claydon Road, Cropredy, Banbury OX17 1JP
01295 758911
A quiet spot on the South Oxford Canal
Cropredy's one of those places that's got everything. Along with all the stuff you'd expect from a good marina, you'll find views of the Oxfordshire countryside, loads of cruising routes and a nearby village with two great pubs. When you've enjoyed some quiet time by the water, Banbury is just five miles away – it's a historic market town, so there's castles, museums and a bunch of shops to explore.
This one's a really spacious marina – it's got 355 berths, with moorings for narrowboats. For cruising, you've got the southern half of the English canal network, plus access to the Thames at Oxford. It's a pretty special spot.
View on Google maps

See the marina layout

Find us by water
Moorings at Cropredy Waterside & Marina
At Cropredy Waterside & Marina you are moored in a safe and secure berth with a range of facilities and a friendly team on hand to help, whenever you need them.
Things to do in the local area
For some downtime in the countryside, come moor up with us at Cropredy Waterside & Marina. It's set offside on the South Oxford Canal, a good way from the road, so it's a great little hideaway – but it's still got loads going on.
You'll find Cropredy village just a short walk away from the marina. It's got everything you need – there's two pubs, a café, a doctor's surgery and a shop for all the essentials. We think it's a great little community. When you're ready for something more lively, Banbury's only five miles away – it's a pretty market town that's well worth a trip. You can get there by car or bus, but walking's got the best views. There's a trail that takes you right along the canal.
Cropredy Waterside & Marina photo gallery
In the background is a set of boats. Two kayakers are paddling along the water.
Cropredy Waterside & Marina with green grass and a water view
A jetty at Cropredy Waterside & Marina with two boats either side.
A narrowboat called Ripples sits alongside the jetty. There are clouds overhead in the blue sky.
A shot from low down of the path. Featuring long green reeds either side with yellow flowers.
Two boats sit on the water called 'Jokery' and 'Bonny Miss Gracie'.
Colourful narrowboats sit alongside each other on the water. Blues, greens and reds stand out from the trees in the background.
Cropredy Waterside & Marina
We've got all your practical needs covered with a full array of Aquavista brilliant basics that you'd expect from modern waterside living including:
Safety & Security
A secure marina with a gated entrance, CCTV and a full-time Harbour Master based on-site
All jetties have a non-slip surface and are well-lit at night
24-hour emergency call-out
Facilities
Toilet & shower facilities, open 24/7
Laundrette, open 24/7
Moorers lounge
Unloading bays close to jetties, ample car parking
Full length jetty beside every boat for easy access
Free WiFi around the marina for browsing
Refuse and recycling facilities
Services
Fully serviced pontoons with metered electricity and water
Diesel, Calor gas, coal and logs available
Pump out and Elsan disposal
Narrowboat services, including fully enclosed dry dock
Boat Sales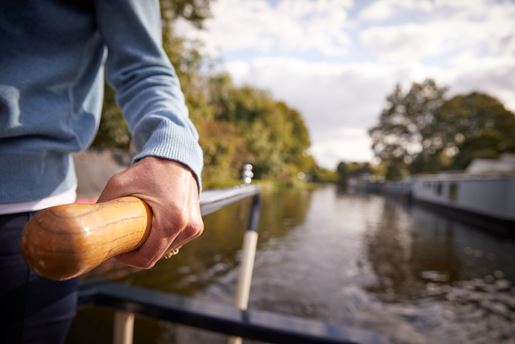 Explore 34 – your free Aquavista stop-overs
We have 29 unique and special locations around the UK, and our Explore 34 benefit means when you moor with us on an annual contract, you can stay at any of our other marinas for up to 34 nights at no extra cost*.
Contact our friendly Waterside Crew:
Cropredy Waterside & Marina is open 9am to 5pm Monday to Sunday.
You can call us on 01295 758911 and we will be more than happy to help you or arrange an appointment to view the marina.
During seasonal and bank holidays our typical office hours may vary, please call the waterside office before making a visit.
discover the life
To moor with us at Cropredy Waterside & Marina please get in touch