discover a new experience
Tips for coastal navigation
The rural splendour of Glasson Waterside & Marina. The city centre buzz of Hull Waterside & Marina. The metropolitan feel of Limehouse Waterside & Marina. Aquavista operates three coastal marinas and they all have something different to offer, whether you're a leisure cruiser or plan to take up a residential mooring.
But along with their unique charms, the ways to navigate into our coastal marinas are equally varied! From the locks at Limehouse to the tides at Glasson, there's some essential information you'll need to get you there safely, and we've shared it with you below.
But while life at our coastal marinas may be rich and diverse, there's one thing all three have in common. They all make ideal launching spots for exploring the UK's beautiful coastline, or for cruising the picturesque tidal waters of the Thames. 
So to make sure you get the most out of them, we've added some tips on coastal and tidal navigation that will help you find your sea legs. All you need is a sense of adventure – and this handy guide.
Tips on coastal navigation for sea-going crafts
When you've got a sea-going craft, the whole of the UK coastline is yours to explore. Stay at Glasson Marina and North Wales, the Isle of Man and Whitehaven will be within easy reach, or enjoy a weekend trip across Morecambe Bay to Piel Island. 
From Hull you can explore quaint seaside towns on the Yorkshire coast, such as Whitby, Scarborough and Bridlington.
But whether you fancy a weekend cruise or just a fun day trip, planning your coastal navigation in advance will make it plain sailing. 
Tips on coastal navigation for narrowboats
You may not ever plan on using your canal boat at sea, but you'll still need to be able to deal with tidal waters if you want to cruise estuaries and rivers.
For example, if you're planning on mooring at our Limehouse Waterside & Marina in your narrowboat or widebeam, you'll need to navigate the Thames' tides to get your craft in and out. It's something that can make even the most routine of narrowboat manoeuvers feel surprisingly tricky! 
Navigating into Glasson Waterside & Marina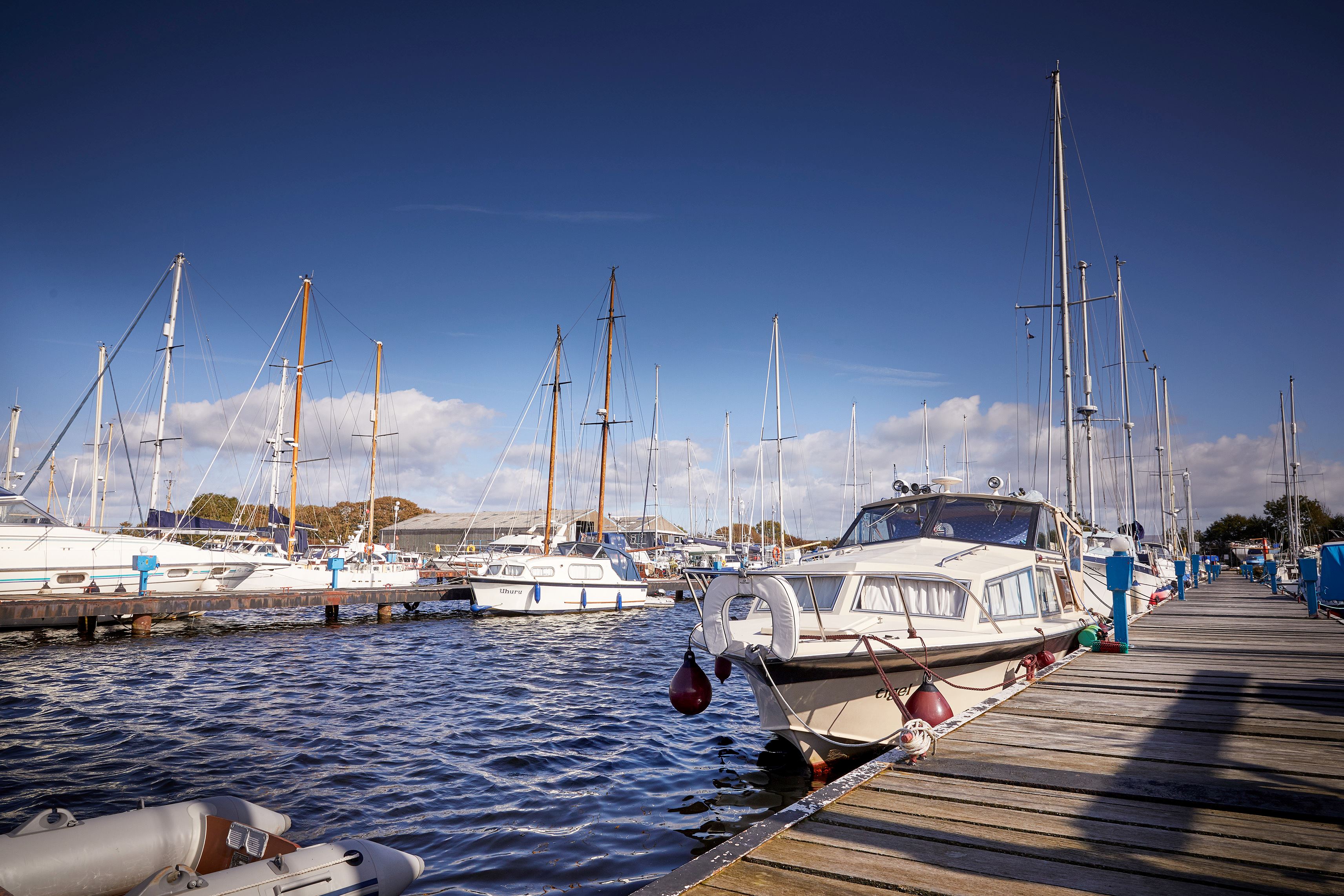 Glasson is a working seaport situated in the River Lune estuary. You'll need to go through it to lock into Glasson Waterside & Marina, the pretty marina that's the seaward terminal of the Lancaster Canal. 
The sea lock to Glasson is operated by the port commission and we've provided all the instructions you'll need below. It's a little tricky to navigate, because Glasson is only accessible for 45 minutes before local high water. It's well-worth the effort though. Once you've sailed through Glasson, an oasis of rural calm and tranquility are waiting for you just a few yards away.
Well-sheltered and secure, the freshwater Glasson Waterside & Marina enjoys a peaceful setting that feels a world away from the industrial seaport. Alongside its stunning natural beauty, there are plenty of facilities for you to enjoy while you're moored here.
The inner lock to the marina is operated by us, here at Aquavista. Please give marina staff 48 hours notice for lock passage in or out of the lock, to ensure we're on-hand to help. 
Navigating into Hull Waterside & Marina
If you love to coastal cruise, Hull Waterside & Marina makes the perfect base. Its sheltered estuarial waters are a great launching point to explore romantic seaside towns such as Whitby, Scarborough and Lowestoft, all at just a day's sail away.
If you are mooring at Hull for the first time, talk to marina staff to chat through your pilotage plan. But once you're settled in, you'll find the buzzing Yorkshire city of Hull just a short stroll away, perfect for retail therapy, soaking up some culture at a museum or just sitting back and enjoying the waterside cafe culture.
Navigating into Limehouse Waterside & Marina
Whether you've got a narrowboat, widebeam or a sea-going craft, Limehouse Waterside & Marina makes an ideal base for exploring the capital. 
An oasis of calm in the heart of the city, the metropolitan marina is surrounded by pretty streets, lined with shops and restaurants. It's also your gateway to visiting the beautiful waterways and picturesque villages along the Thames. 
As you'll be navigating tidal waters, you'll need some instructions to get you into Limehouse safely. But once you're settled in you'll find that mooring at Limehouse gives you access to some awe-inspiring new cruising experiences – and a unique perspective on London. 
Want to know more about our Coastal sites?