discover the life
A guide to boat maintenance
There's no getting away from it. If you own a boat, you're going to have to get your hands dirty at some point! Keeping your craft ship-shape will not only prolong its lifespan and boost its resale value, it will also improve your boat's reliability – meaning you can relax and enjoy your time out on the water.
While it's tempting to get repairs carried out by a professional, learning a few basics does more than help you save on costs. Getting to know your boat inside and out will help nurture your relationship with your vessel, quickly alerting you to tiny symptoms before they have the chance to turn into expensive problems.
Boats require lots of care and attention to keep them running smoothly, but many routine maintenance tasks are surprisingly straightforward. And, whether you're a leisure or residential moorer at Aquavista's marinas, you'll find plenty of support services on-site that can make servicing your boat even easier, from hardstanding to workshops.
Our guide will give you an idea of what kind of maintenance is involved when you own a boat, and explain how Aquavista can lend a hand whenever you need it!
Hull blacking
If your boat has a steel hull, you'll need to get it re-blacked every three to four years to protect it against rust and corrosion. The job involves getting the boat out of the water, something that's performed using either a crane to hoist it out, by dragging the boat up a slipway on a trailer or through the use of a dry dock. 
In a dry dock, your boat is floated into a chamber where the water can be pumped out, leaving it dry and resting on supports. Once out of the water, the hull needs to be prepared by cleaning it with an industrial pressure washer followed by sanding with abrasive wheels. It's the only way to remove all the weeds and debris that have built up on the hull over the last three or four years. When clean and prepared, the hull can be painted with primer and re-blacked using bitumen or epoxy paint.
Many of Aquavista's marinas offer cranes, dry docks and slipways to take your boat out of the water ready for blacking. And while blacking is a job you can do yourself, it is time-consuming, messy and tiring. Luckily, some of our marinas offer boat yards that specialise in hull blacking, so your boat can be back on the water in no time.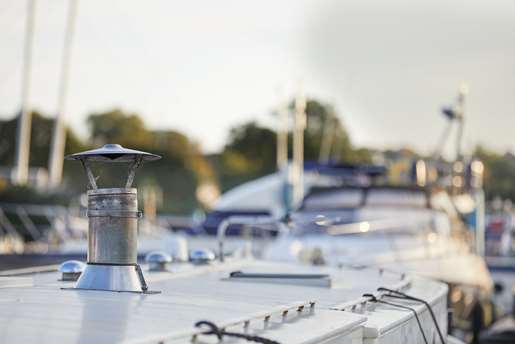 Anode replacement
While the boat is out of the water for blacking, you'll need to check the anodes and replace them if necessary. Also known as 'sacrificial anodes', these little lumps of magnesium welded to your hull have a higher electrochemical value than steel meaning they'll corrode away faster, helping protect your boat from corrosion. 
If anodes fail it can be a costly mistake to put right, as you may have to re-plate your hull. So it is important to check the anodes and replace them if they are more than 50% wasted. Even if they look OK, now's a good time to tighten the bolts.
Wood treatment
Wooden boats require more frequent maintenance, but it's a straightforward job to tackle yourself. You'll need to sand and retreat with varnish or paint regularly, to protect the wood from the elements. Even some GRP boats will have wooden features such as seating and rails that need treating annually to prevent discolouration and deterioration.
Antifouling
If your boat is made of GRP, it'll need to be lifted out of the water and antifouled beneath the waterline every couple of years. Generally, boats larger than 21 feet need to be lifted out with a crane to have their hull, rudders and keel scrubbed and painted with antifouling paint.
Some of the boat yards attached to Aquavista marinas specialise in treating and repairing GRP boats and can do the job for you.
Engine servicing
A yearly engine service can help you avoid breakdown expenses later on. A basic service will change the oil, filters, coolant and spark plugs, but you can also pay extra for a more thorough going over that also checks glow plugs and valves.
Anchor and chain guidance
Your anchor and chain can help you moor when conventional berths aren't available, and are a vital piece of safety kit in dangerous waters. Make sure you have a suitable anchor for your craft that's long enough for the depth of water you're planning to cruise. According to the Canal and River Trust boater's handbook the rope and chain together should be at least six times as long as the deepest part for rivers and tidal waters, lochs and lakes.
Choose the heaviest one you can deploy. For narrowboats, this can be 20 to 25kg plus a length of 10 to 15 feet of chain.
Pre-season checks
Before taking your boat out for a season of sailing, you'll need to perform a few basic checks to make sure it's ready for cruising. These should include changing the oil and filters, checking your batteries and making sure everything is generally clean and tidy. In addition, it's a good idea to…
Check all safety equipment. You'll need to make sure that life jackets are all holding air and that your smoke and carbon monoxide alarms have new batteries.
Inspect your throwlines and check that all ropes on board are in good condition, not frayed, knotted or tangled up.
Make sure your tank is showing no signs of diesel bug.
Boats have a lot of moving parts and these all need to be fully greased.
Make sure your batteries are charging correctly as this is a major cause of breakdowns on the water! Top up with de-ionised water if necessary. 
Check for frost damage to pipes.
Check the bilge pumps are working.
Remove the weed hatch and check the propeller for any debris or weeds.
Winterising your boat
You'll need to get your boat ready for freezing temperatures if you plan to leave it unused for the season.
Freezing water can burst a pipe, so disconnect all water pumps and leave tanks and pipes to run dry. Make sure all valves and taps are open. 
Visit the boat regularly to run the engine for at least 30 minutes and charge the batteries.
Consider fitting an automatic bilge pump for additional peace of mind.
Make sure mooring ropes are secure, yet slack enough should water levels fall.
Service the engine before winter storage to ensure all filters are clean, water has been removed and corrosive elements are washed away.
Make sure engine anti-freeze is topped up.
Aquavista marine services, boat yards and workshops
While it's a great idea to undertake some repairs to your boat yourself, it's always reassuring to know that additional help is on-hand should you need it. At Aquavista's marinas you'll find support services on-site which make maintenance jobs a breeze.
If you plan to carry out repairs yourself, some of our marinas offer boat lifting, hardstanding or undercover space where you can work safely on your boat. But if a job is beyond your capabilities, there are also skilled local contractors, extended boat yard services and workshops all ready and waiting to lend a hand.