Waterspace Living Bramley Falls 4
Waterspace Living Bramley Falls 8
Waterspace Living Greenwich 70 5
discover the life
with Waterspace Living
Buying a new boat with a residential mooring
Whether you are looking for an impressive apartment, need a convenient pied à terre or are ready to start a fresh chapter, Waterspace Living is an extraordinary new way to live.
The exclusive Greenwich '70 boats combine the very best in boat design with sophisticated residential moorings to offer all the conveniences you would expect for modern living.
The spacious boats are designed for living and cruising and also provide a quiet and comfortable place to work.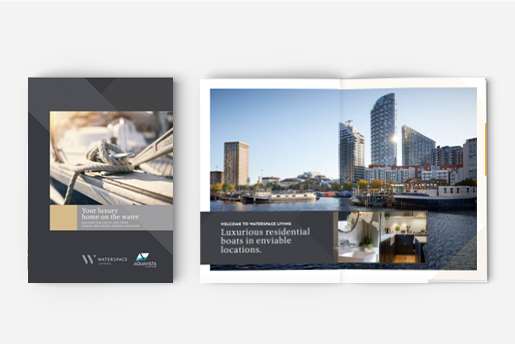 New luxurious residential boats
Waterspace Living gives you the best of all worlds: stylish living, room to breathe and a vibrant lifestyle right on your doorstep. No boating experience required; just an appetite for out-of-the-ordinary.
Showboat photo gallery
Waterspace Living Greenwich 70 5
Waterspace Living Bramley Falls 4
Waterspace Living Bramley Falls 10
Waterspace Living Bramley Falls 3
Waterspace Living Bramley Falls 8
Waterspace Living Bramley Falls 7
Inside there's a king-sized bed in the master cabin, with wall-mounted 42" flatscreen TV and floor to ceiling double wardrobes; a bathroom with a bath, separate shower, toilet, quartz vanity shelf and underfloor heating; a L-shaped kitchen with quartz work surfaces, a gas hob, fridge freezer, dishwasher, washing machine, wine fridge, and integrated microwave; and a spacious lounge with a skylight, 42" flatscreen TV and diesel fuel or electric stove. The boat comes with central heating throughout.

The interior of your boat can also be personalised at build to suit your lifestyle. There's also a range of eco options such as solar panels or hybrid engine, making this low impact way of life even more environmentally friendly.

The boat is priced from £279,500 for a one year rolling residential mooring agreement. A fully transferable 10 year residential mooring agreement is also available (price on application). Annual mooring fees payable to Aquavista.
discover the life
To book a viewing of the showboat currently moored in Limehouse, please contact Waterspace Living