discover the life
Glasson Waterside & Marina
School Lane, Glasson Dock, Lancaster, Lancashire, LA2 0AW
01524 751491

Where the Lancaster Canal meets the sea
Glasson Waterside & Marina lies in a secure and well sheltered location at Glasson, a working sea port on the north west coast near to the historical city of Lancaster. Here, on the wildlife-rich Lune Estuary, where the Lancaster Canal meets the sea, you can enjoy views north across Morecambe Bay to the fells of the Lake District and south to Blackpool Tower. With easy access to the M6, it's a peaceful, unspoilt area. The opportunities for canal, river and coastal cruising, make it a great choice for your weekend and holiday getaways.
Glasson Marine Services is our very own experienced team of marine engineers. They are there to help you ensure that your boat is kept or returned to the very best condition.  Our team offer a wide range of services and have over 30 years of dedicated professional experience in repair, paintwork, rigging and much more. 
Moorings at Glasson Waterside and Marina
At Glasson Waterside & Marina you have the peace of mind of knowing that you are moored in a safe and secure berth, with a wide range of facilities. Our friendly team are on hand to help you when you need them.
Things to do in Lancashire and nearby
Visit the historic town of Lancaster for shopping, an imposing castle and a riverside Maritime Museum. Enjoy the great outdoors, with the Lake District  just 30 miles' drive way and the unspoilt Forest of Bowland even closer. Here, follow the Pendle Witch Trail by bike or by car for a memorable history lesson. Along the north west coast, enjoy an old fashioned day at the seaside in Blackpool, see the famous statue of Eric Morecambe at Morecambe Bay, and get your golf clubs out for one of the many courses on England's Golf Coast.
Glasson Waterside & Marina photo gallery
Sailing boat heading into Glasson Marina
Boats moored on jetties at Glasson
Boats no the marina with housing in the background
Grassy and leafy setting with marina in the distance
Glasson Waterside & Marina
View from the Waterside Crew
"It's great to work with such a dedicated team with specialist boat painting skills.  We are one of few spray painting experts and the standard of work put out by our team is always exemplary."

David - Waterside Supervisor
Glasson Marina facilities
We have your practical needs covered with a full array of Aquavista brilliant basics that you'd expect from modern waterside living including: 
Safety & security 
A secure marina with key fob access gates and CCTV
All jetties have a non-slip surface and are well-lit at night 
Well-kept environments
24-hour emergency call out
Facilities 
Laundry room with washer and dryer
4 showers and 4 toilets, open 24/7
Refuse and recycling facilities
Free car parking
Free Wi-Fi
Chandlery
Red diesel available onsite
50-tonne hoist
Hard standing
The Lantern O'er Lune and The Dalton Arms nearby - 5 minute walk
Services 
Fully serviced jetties
1 Elsan disposal point
Excellent customer service
Boat maintenance services
Glasson Marine Services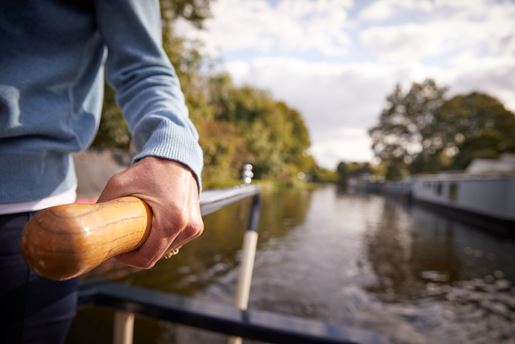 Explore 34 – your free Aquavista stop-overs
We have 29 unique and special locations around the UK, and our Explore 34 benefit means when you moor with us on an annual contract, you can stay at any of our other marinas for up to 34 nights at no extra cost*.
Glasson Waterside & Marina office is open 10am until 4.00pm Monday to Friday.
You can call us on 01524 751491 within these hours.
During seasonal and bank holidays our typical office hours may vary, please call the waterside office before making a visit.
discover the life
To moor with us at Glasson Waterside & Marina please get in touch
Glasson is a working seaport situated in the River Lune estuary. You'll need to go through it to lock into Glasson Waterside & Marina, the pretty marina that's the seaward terminal of the Lancaster Canal. 
The sea lock to Glasson is operated by the port commission and we've provided all the instructions you'll need below. It's a little tricky to navigate, because Glasson is only accessible for 45 minutes before local high water. It's well-worth the effort though. Once you've sailed through Glasson, an oasis of rural calm and tranquility are waiting for you just a few yards away.
Want to know more about Glasson Marine Services?
discover something new